Sally Helgesen, cited in Forbes as the world's premier expert on women's leadership, is a best-selling author, speaker and leadership coach. For 30 years her mission has been to help women recognize, articulate and act on their greatest strengths and help organizations build more inclusive cultures.
She has been named Number 6 on the Global Gurus list of top leadership experts and as the Thinkers 50 Marshall Goldsmith #1 Coach for Women Leaders. She was also chosen by the coaching consortium MEECO as International Thought Leader in Cultural Transformation.
Sally's most recent book, How Women Rise, co-authored with legendary executive coach Marshall Goldsmith, examines the behaviors most likely to get in the way of successful women as they seek to move to a higher level. It became the top-seller in its field within a week of publication and rights have been sold in 12 languages.
Previous books include The Female Advantage: Women's Ways of Leadership, hailed as the classic in its field and continuously in print since 1990, and The Female Vision: Women's Real Power at Work, which explores how women's strategic insights can strengthen their careers. The Web of Inclusion: A New Architecture for Building Great Organizations, was cited in The Wall Street Journal as one of the best books on leadership of all time and is credited with bringing the language of inclusion into business practice.
Sally develops and delivers leadership programs, workshops and coaching sessions for corporations, partnership firms, universities and associations around the globe. She has consulted with the UN on building more inclusive country offices in Africa and Asia, led programs at the Harvard Graduate School of Education and Smith College and been visiting scholar at Northwestern University, U-Nordic Stockholm, and the Lauriston Institute Melbourne AU. She is a contributing editor for Strategy + Business magazine and a member of the MG Top 100 Coaches Network and the New York and International Women's Forums. She lives in Chatham, NY.
---
---
As a member of Marshall Goldsmith's 100 Coaches, Sally is part of the growing community of world renowned leaders providing leadership content through the Methods of Leaders platform. Sally's online Women's Leadership course takes you through the 12 habits or behaviors that routinely get in the way of successful women's efforts to rise in their careers.
---
Strategy+Business offered Sally the opportunity to write a major article, reflecting on what she's witnessed and learned in 30 years observing and working with women leaders and what she sees going forward.
---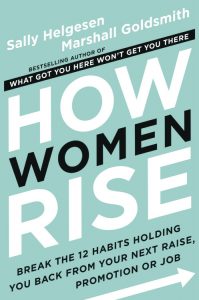 Sally Helgesen's latest book, How Women Rise, co-authored with Marshall Goldsmith, is available now. It explores specific behaviors that get in women's way as they seek advancement and offers powerful solutions to help women realize their full potential.
Click here to download my free book club discussion guide.
Click here to download my free guide to Twelve Behaviors that Keep Women Stuck.